Our Mission
To deliver quality installations safely, economically and on time to our clients.
Our Philosophy
Our employees are our greatest asset. We hire employees that are motivated and safety conscious. We are commited to retaining competent staff and crews that are dedicated to serving our clients best interests.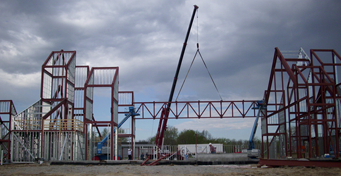 Our flexibility allows our methods to change in order to stay competitive and provide a level of professionalism and safety that our clients appreciate.
We value the importance of building relationships with our clients, employees, partners and vendors. We are very proud of our accomplshments and strive to constantly build on them.
We promote good communication throughout our company, which helps with our problem solving approach to field changes.
With this philosophy, we find that we are able to get each job right the first time.
Affiliations
American Institute of Steel Construction (A.I.S.C.) Certified
Signatory with Ironworkers Local Union #10 and Operating Engineers Local #101.
Construction Industry Substance Abuse Program (CISAP)
Current NMAPC contractor
E-Verify Certified
Contract compliant with Kansas City, MO and the Unified Government of Wyandotte County, Kansas City, KS.
Key Personnel

Tony Burnworth - President and CEO
Tony has been in the steel industry for over 30 years. He started out in fabrication and moved into the field as an ironworker apprentice. He has been a foreman, general foreman and estimator and project manger. Tony purchased Liberty Erection in 2000 and has been president since then. He works with each project in coordination and safety. He also works with the client to insure a quality project every time.

Scott Middaugh - Field Superintendent/Estimator
Scott brings over 21 years experience to Liberty Erection. He has been a journeyman ironworker, foreman, general foreman, and is currently the Field Superintendent and Estimator/Project Manager. He takes care of scheduling, project coordination, job site safety and hiring.

Brad Sams - Estimator
Brad has been in the structural steel industry for 21 years. He has worked in structural steel, reinforcing steel, misc steel, bridges, pre-cast work as a journeyman ironworker. He has worked for Liberty Erection for 5 years as a foreman in the field and for 3 years as estimator and project manager. He is Liberty Erection's AISC Coordinator.

Debbie Andrae - Office Manager
Debbie has been in accounting and payroll management for over 30 years. Serving as office manager for Liberty Erection since 1998, she is a certified bookkeeper, administrative assistant, project secretary and office safety-coordinator.

Michelle Burnett - Assistant Office Manager
Michelle has worked in the construction industry since 1998. She has worked in HR, contract administration, accounting and customer service. Michelle started with Liberty Erection in March 2017 and has 29 years of experience in office administration.